HAPPY THANKSGIVING!
We are grateful for our students and parents. Thank you for all that you do to support our school. There is no school Nov. 21-25. Please enjoy your Thanksgiving break.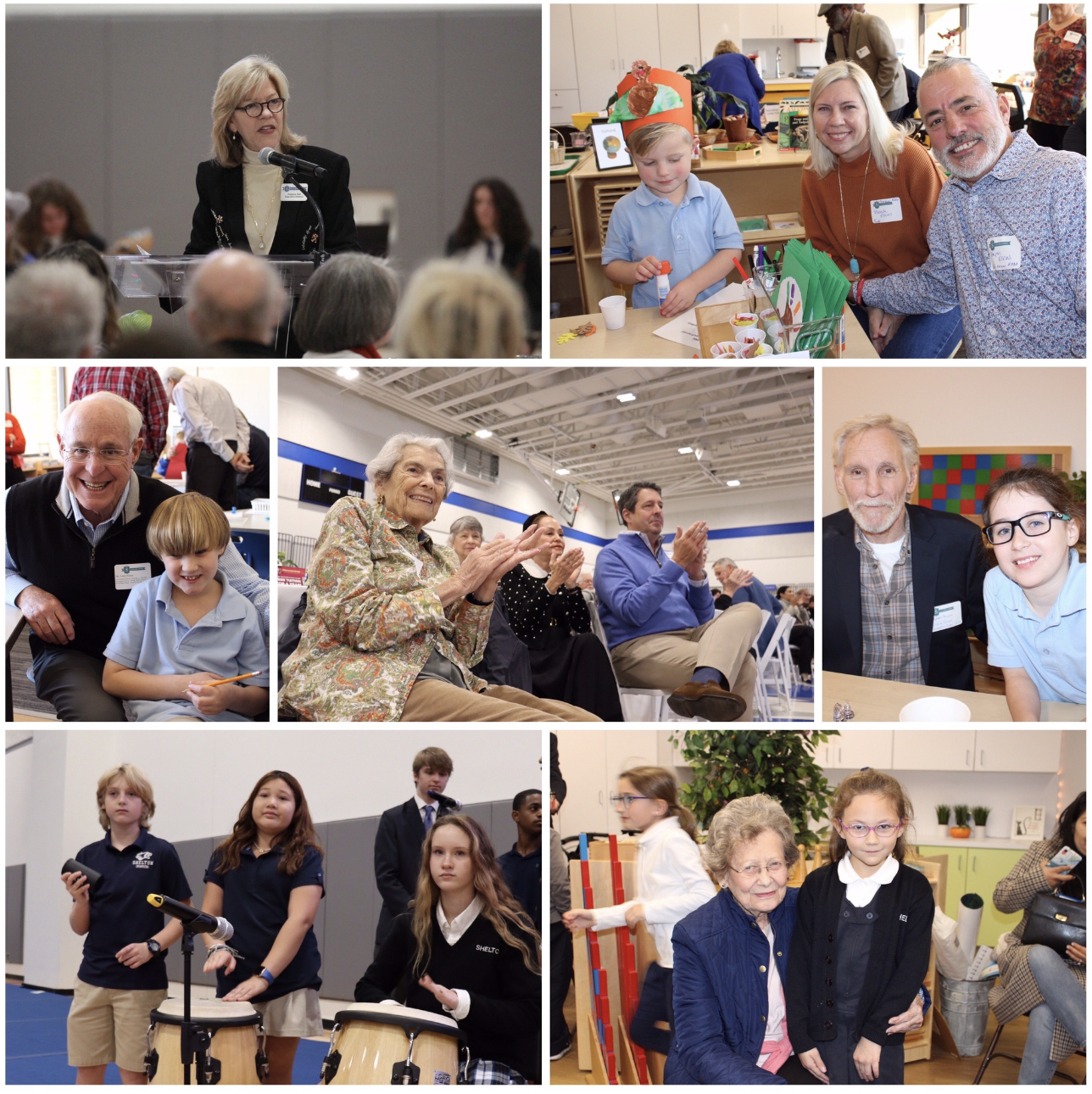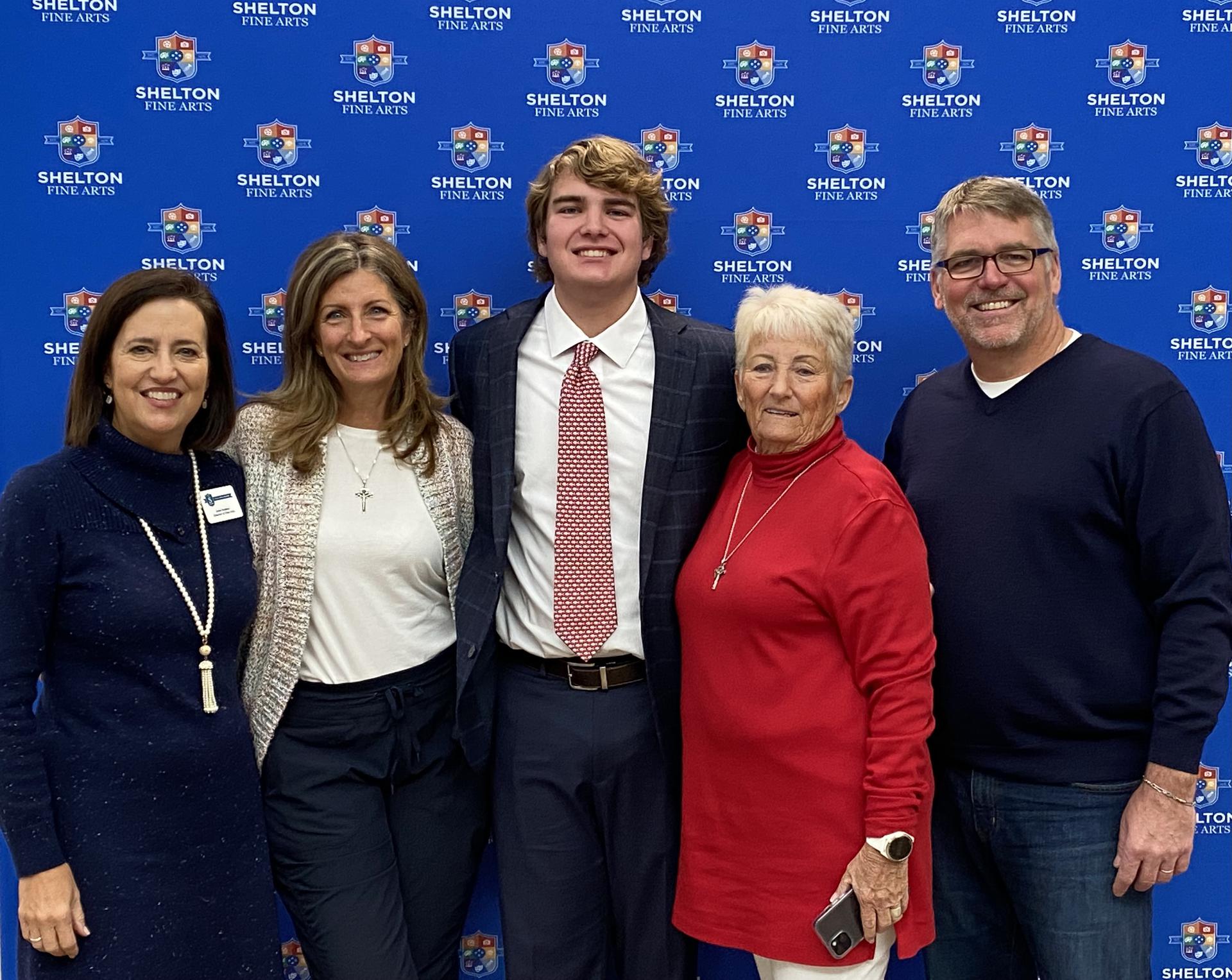 GRANDPARENTS' DAY THANK YOU
Thank you to all of the grandparents and special friends who made Grandparents' Day so special and meaningful for our students. Our students, teachers and staff were so excited to show off their school. Grandparents enjoyed a presentation with 178 student performers, including performances from the Upper School Band, Upper Elementary Music, Middle School Cheerleaders, Eighth Grade Musical Theatre Cast, Varsity Cheerleaders, 4th-12 Grade Combined Choirs, Chargerettes and Drumline. More than $32,000 in raffle tickets for a free tuition were sold. Fun fact: How much coffee does it take to fuel our grandparents? About 75 gallons!
Senior Sydney Carter was the student speaker on Thursday. She thanked her parents as well as her grandparents — Opa, Oma and Mimi — for playing such a supportive role in my life."Shelton has helped me grow as a student, athlete and person," she said. "Shelton has helped me realize that I have learning challenges, but I am not defined by them." Sydney has been accepted to the University of Arizona, University of Arkansas, University of Kansas, University of Oklahoma, Oklahoma State University and Texas Tech, and she's received a scholarship to each school.
Senior John Bulmer was the student speaker on Friday. "The aspect that I believe has helped me to succeed to the level I have today is the personal relationships I have built with my teachers as well as the confidence they have in me," he said. He has been accepted to Texas A&M, where he plans on majoring in Rangeland, Wildlife and Fisheries Management with an emphasis on aquaculture and fisheries.
Lower School/Upper Elementary Grandparents' Day Slideshow
Middle School/Upper School Grandparents' Day Slideshow
NEW PARENT SUPPORT MEETING THURSDAY, DEC. 1, 7:00 PM
"Oral and Written Language: Decoding, Spelling, Comprehension & Composition," our fourth New Parent Support meeting of the year, will be held virtually for first-time Shelton parents on Thursday, Dec. 1, at 7:00 p.m. New parents will receive an email with a link to join the Dec. 1 event on Tuesday, Nov. 29. Parents who are not new to Shelton this year, but who would like to attend/view this webinar, please contact Laura Berend for information. What we do at Shelton to help students with these four functions is core to our expertise and experience.
SUMMER, THE SHELTON WAY 2023
Start planning now for Summer, The Shelton Way:
Summer School 2023: June 12-June 30
Scholars 2023: June 12-June 30
June 19: holiday
Back to School Prep Week for Shelton students: July 31-Aug. 4
Registration opens Feb. 15.
Information on summer classes and the summer brochure will be available online in early February here.
Questions? Email summer@shelton.org.
MIDDLE SCHOOL TRIPS REGISTRATION DEADLINE IS NOV. 30
Middle School students will enjoy class trips Smoky Mountains on April 17-20 (eighth graders) and a Texas history trip to Austin and San Antonio on April 19-21 (seventh graders). Registration is due by Nov. 30. If you have questions, email Anna Smith at asmith@shelton.org.
FIFTH GRADERS SEND CARDS TO THE TROOPS
Visual Arts Instructor Evan Hampton's fifth-grade class wrote and designed 25 cards to send overseas for the troops who will be unable to come home for the holidays. Thank you to our wonderful and caring students!
LADY CHARGERS BASKETBALL
Come cheer on the Lady Chargers Varsity Basketball team! Their next home game is Nov. 29 at 6 p.m.
STUDENTS VOLUNTEER FOR THE NORTH TEXAS FOOD BANK
Congratulations to ninth graders Caroline Elvebak and Addyson Dougherty On Shelton's Upper School Volunteer Day, they spent the afternoon volunteering at the State Fair of Texas for the North Texas Food Bank collecting canned good donations from patrons. They were proud to be part of one the largest food drives in the state which annually collects approximately 200,000 pounds of food during the event to help help families in need.
CONGRATULATIONS TO SHELTON ALUMNA TRINITY BYARS

Trinity Byars (Shelton class of 2021) is a University of Texas sophomore and soccer midfielder who tied for first in NCAA Division I in match-winning goals (seven). She is the Offensive Player of the Year and earned First Team All Big 12. She is majoring in health Promotion & Behavioral Science.
CONSIDER DONATING TO SHELTON'S ANNUAL FUND
This year's Shelton School Annual Fund "Investing Today, Shaping Tomorrow" is about the opportunities students gain from a Shelton education. Our students' experiences today shape their tomorrow. Your investment enables Shelton to offer innovative programs, top-notch educators and personalized instruction at an outstanding campus. Thank you for all that you do to make a difference for each and every Shelton student.
SEND US YOUR STUDENT AND ALUMNI NEWS
Has your child held an interesting job, volunteered in the community or had any other special achievement? Please let us know by filling out the form here. By submitting news or photos you agree that your news may be shared on Shelton.org, our email newsletters and social media. Send photos to lkresl@shelton.org.