SHELTON NEW PARENT SUPPORT NIGHT THURSDAY, OCT. 6, 7:00 PM
SIMULATIONS OF LEARNING DIFFERENCES
We invite new parents to join us for a unique hands-on experience: Shelton's Simulations of Learning Differences. Participants will experience firsthand the difficulties and frustrations encountered daily by people who have learning differences. This is the second in a series of seven required parent support meetings for new 2022-23 Shelton parents.
First-time new Shelton parents received a SignUp Genius last week from Laura Berend. Please email Laura if you did not receive this or if you have questions. (Remember to check your SPAM.)
This meeting is for adults only (parents, grandparents and older siblings — seventh grade and older). Childcare is not provided. Please be sure to use the Signup Genius to RSVP with the number of family members attending, as we need an accurate count of attendees for this presentation.
While mandatory for new Shelton parents, all parents are welcome to attend. Please email Laura for SignUp information. Space is limited. The Signup deadline has been extended to Thursday, Oct. 6, at noon.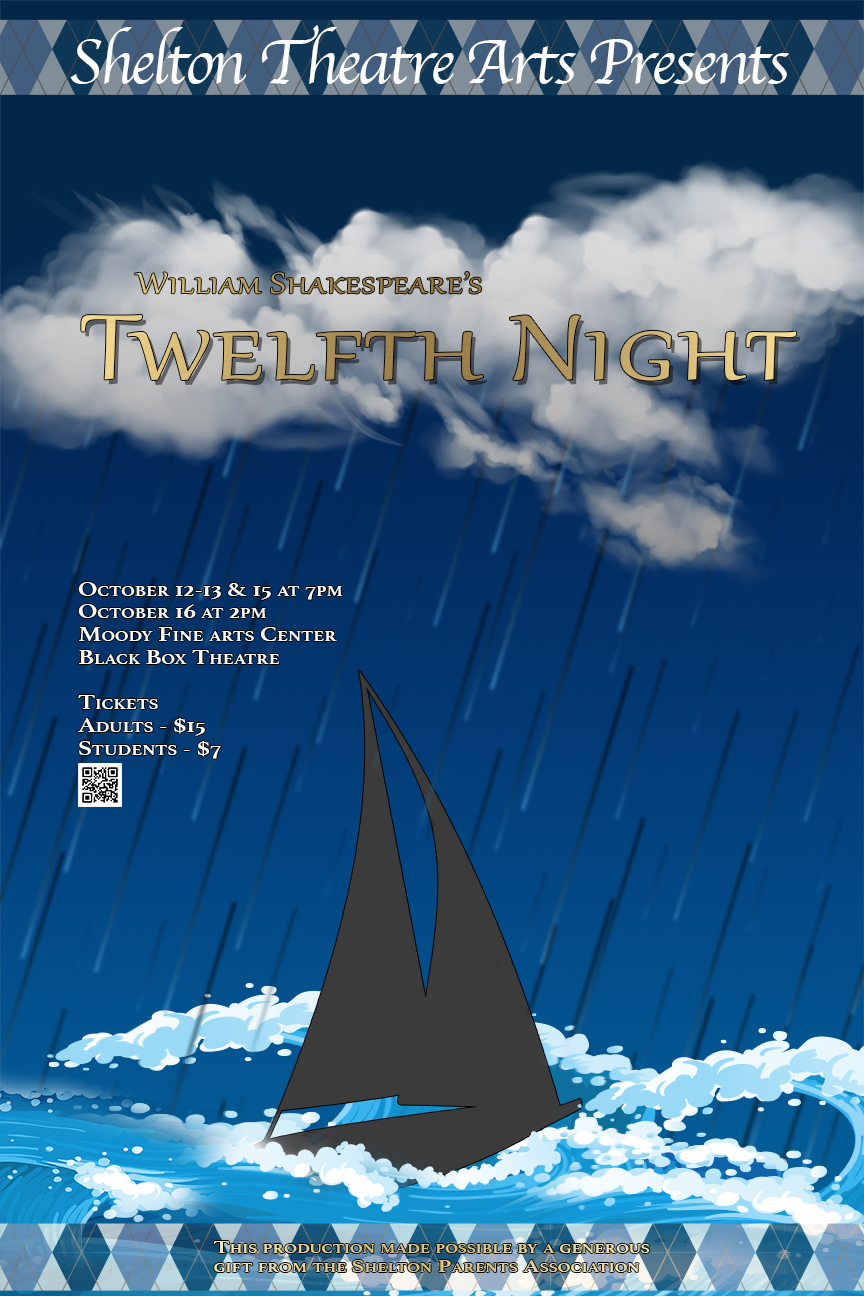 BUY YOUR TICKETS TO SEE TWELFTH NIGHT
Surviving a shipwreck where she believes her twin brother has drowned, Viola enters a strange country where she must dress as a boy to find work. Disguised as the servant, "Cesario," she is sent to woo the Countess Olivia on behalf of Duke Orsino. But when the Countess falls in love with "Cesario" and Viola's twin shows up in town, mistaken identities and laughter rule the day. Love, comedy and confusion abound in this 90-minute version of William Shakespeare's Twelfth Night. Appropriate for ages 6 and up.
Tickets are on sale! Performances are in the Black Box Theatre:
Wednesday-Thursday, Oct.12-13, at 7 p.m.
Saturday, Oct.15, at 7:00 pm
Sunday, Oct. 16, at 2:00 pm
Adults: $15
Students: $7
SAVE THE DATES: GRANDPARENTS' DAY
Grandparents' Day for Lower School and Upper Elementary will be Thursday, Nov. 17, at 9:30 a.m..
Grandparents' Day for Middle School and Upper School will be Friday, Nov. 18, at 9:30 a.m.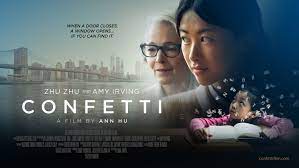 YOU'RE INVITED TO A SCREENING OF THE FILM CONFETTI
In honor of World Dyslexia Month in October, Shelton will screen Confetti, an award-winning movie about dyslexia on Monday, Oct. 24, at 6 p.m. in Shelton's Black Box Theatre.
Confetti is written, produced and directed by award-winning New York-based filmmaker Ann Hu, based on her own experiences. The film illustrates the journey of a 9-year-old girl named Meimei, who moves with her mother, Lan, from their small town in China to New York City. Meimei has struggled to be accepted in her school and community, in part because no one has successfully noticed that she suffers from dyslexia. Lan braves the move to New York, but finding the right school proves to be even more difficult than she could have anticipated.
The film, which is appropriate for children 14 and up, has screened at Yale University, Harvard University, Chicago Foundation for Education, Teachers College Columbia University, The National Center for Learning Disabilities and more. In addition, the film will screen for the British Dyslexia Association followed by an opening night premiere at BAFTA in London followed by a special Gala Dinner at the House of Lords.
Following the film, there will be a panel discussion featuring parents Megan Carpenter, Jon Gross, Nellie Sciutto and Eric McGehearty and moderated by Shelton Executive Director Suzanne Stell.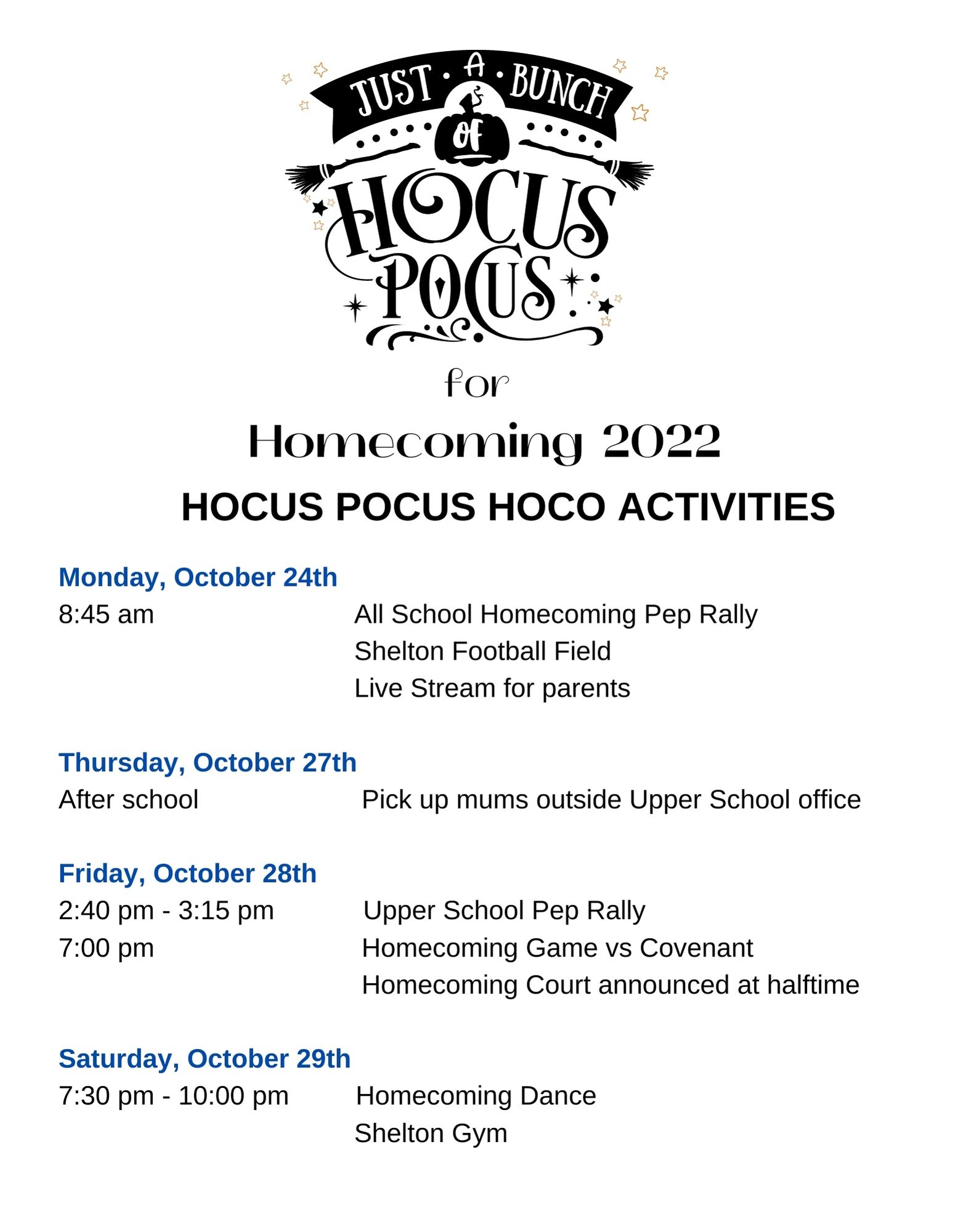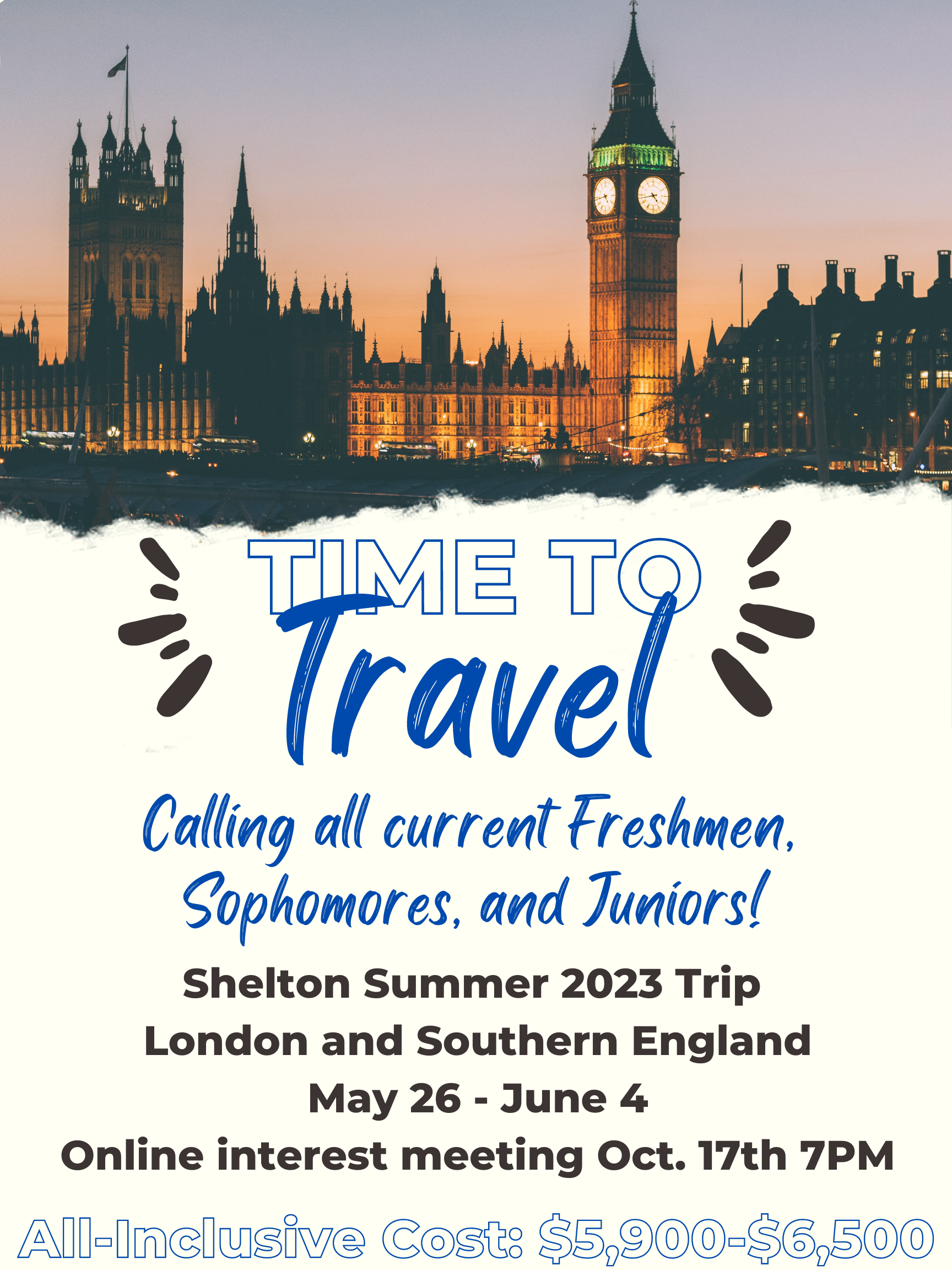 SHELTON SUMMER 2023 TRIP
The Shelton Summer 2023 trip for freshmen, sophomores and juniors to London and Southern England will be May 26-June 4. Applications are due Monday, Oct. 24. Please direct questions to Courtney Lubbers at clubbers@shelton.org.
CHARGER GOLF WINS FALL TAPPS STATE CHAMPIONSHIP!
Congratulations to Charger Golf for winning back-to-back Fall TAPPS State Championships!
Charger golfers include: Alex Frank (this is the senior's third state championship!), William Dean, Matthew Hebard, Gray Henegar, Luke Markey, Michael Mitchell, Aaron Nowell and Matthew Swartz. Congratulations to Coach Adrain Hayes and Coach Kyle Gary!
SHELTON DRUMLINE AND BAND FEATURED IN THE DALLAS MORNING NEWS AND AT THE YTEXAS SUMMIT
The Dallas Morning News mentioned the Shelton Drumline and Band playing at the YTexas Summit at AT&T Stadium Friday, Sept. 30. The YTexas Summit is the largest business symposium in the state and featured networking, exhibitors, panel discussions and more. Shelton was a sponsor of the event, thanks to Shelton parent Laurie Sprouse. Thank you, Laurie!
MAVS JADEN HARDY HOSTED A BASKETBALL CAMP AT SHELTON
Thank you to Mavs Jaden Hardy for hosting a free basketball camp at Shelton for 100 third-eighth grade boys and girls!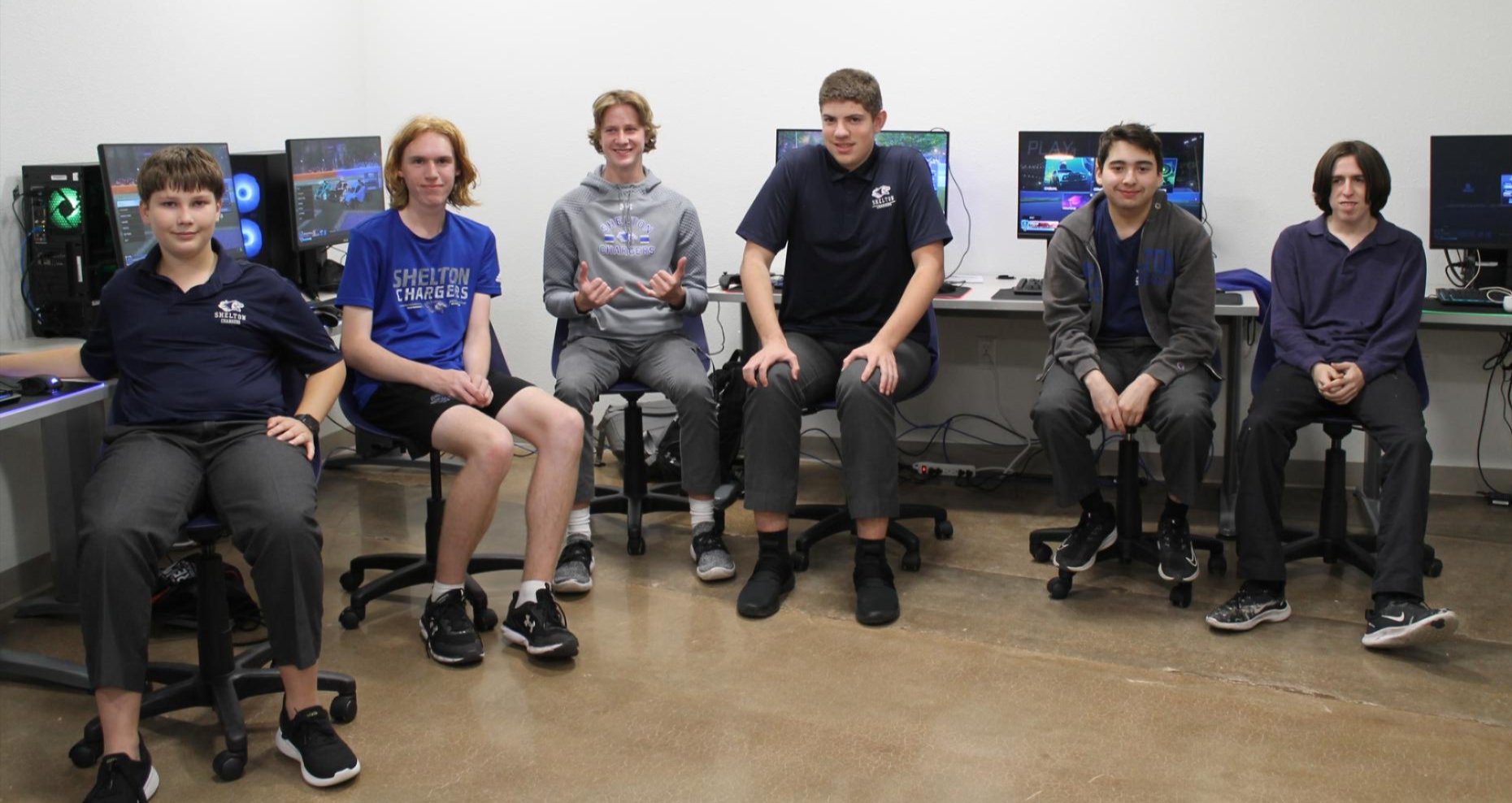 WATCH ESPORTS TEAMS PLAY THURSDAY, OCT. 6, AT 4:30 P.M.
Shelton's new eSports team plays Rocket League (car soccer) against other TAPPS schools. Two teams of three students practice each week on Tuesdays with competitions taking place every Thursday. The coaches are Chris Brendel and Corey Smith. Thanks to our Shelton Parents' Association for making the eSports team possible.
Team 1 Roster: Ralph Calley, James Chanez, Ben Stafford
Team 2 Roster: Alex Anderson, Peyton Owen, Patrick Williams
This week our teams will face new opponents in games Thursday, Oct 6, at around 4:30 p.m. Watch livestream at these links:
Shelton1 v. NCS Cougars (Northland Christian School in Houston)
Ben Stafford, James Chanez and Ralph Calley
Shelton2 v. Whiff City Saders (Concordia Lutheran High School in Houston)
Alex Anderson, Patrick Williams and Peyton Owen
Be sure to subscribe on the Shelton eSports YouTube Channel so you don't miss a match!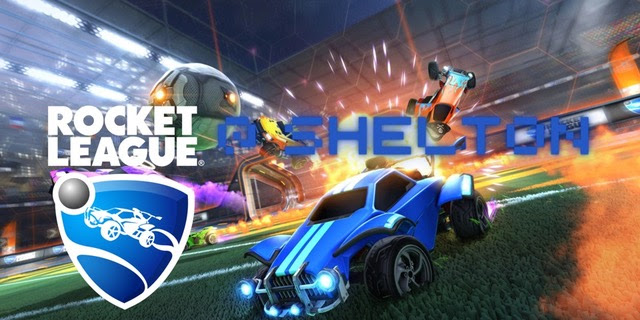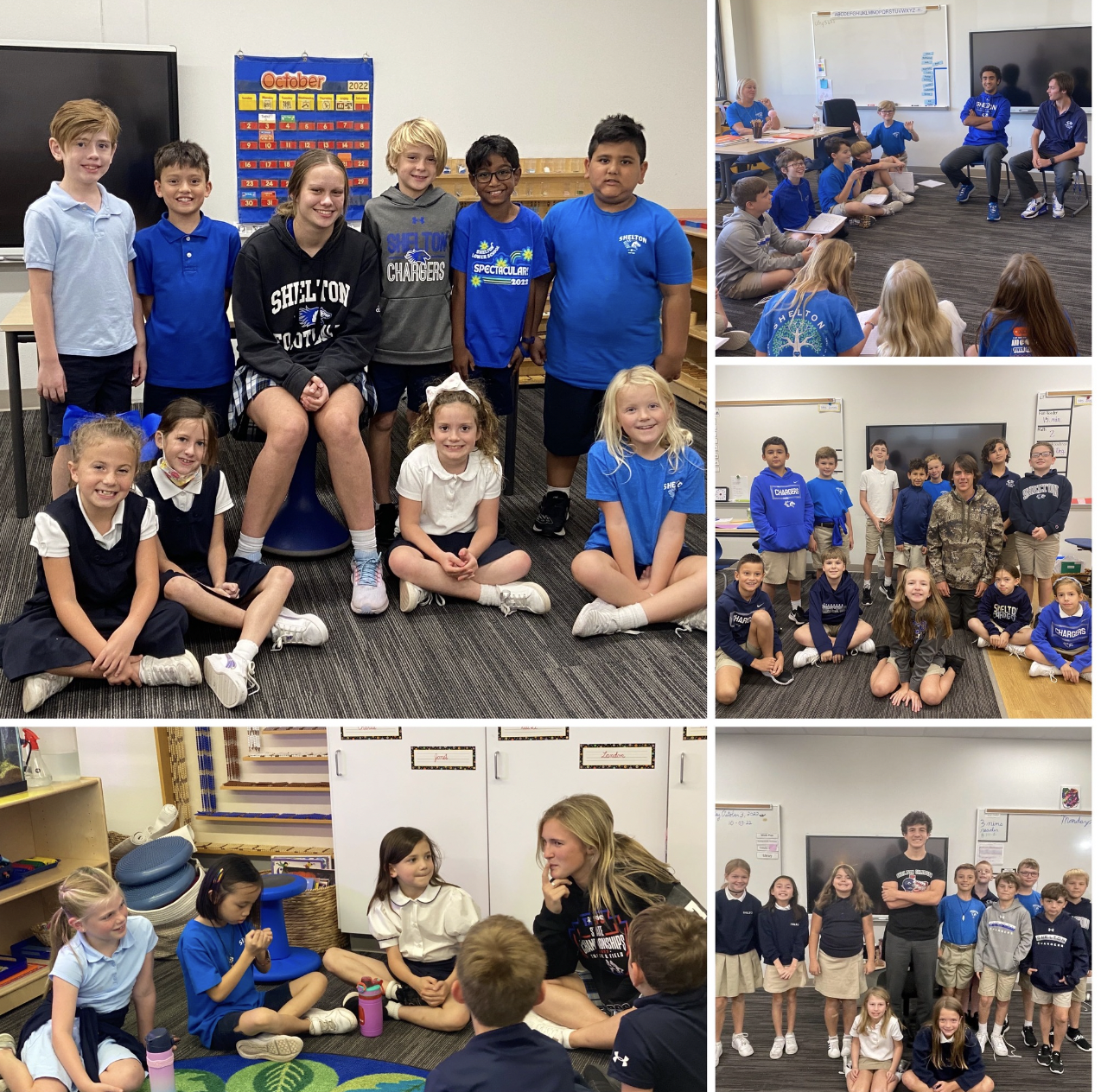 STUDENTS PARTICIPATE IN ADOPT-A-SENIOR
Adopt-A-Senior returns this year. Advisories in Pre-Primary, Lower School, Upper Elementary and Middle School adopt one or two seniors and meet with them. Students ask the seniors questions about high school, their learning differences and favorite things.
ANIMAL ATTRACTION
Lower School students had a blast visiting with animals from the Dallas Zoo at Shelton on Tuesday, Oct 4.
SIXTH GRADE FIELD TRIP TO THE PEROT MUSEUM
Six graders enjoyed a field trip on Monday, Oct. 3, to the Perot Museum of Nature and Science.
MIDDLE SCHOOL STUDENT COUNCIL WELCOMES NEW STUDENTS
The Middle School Student Council hosted a party for new students. Welcome to Shelton!
UPPER SCHOOL CLUB FAIR
Upper School hosted a Club Fair. Shelton students have the opportunity to choose from 20 different clubs.
COME CHEER ON CHARGER FOOTBALL AGAINST BROOK HILL OCT. 5 AT 7:00 P.M.
The Chargers beat Newman International Academy 31-16 on Sept. 29. The team plays Friday, Oct. 7, against Brook Hill at home at 7:00 p.m. Wear neon. It's Senior Night! Thank you to parent Sam Schachter for providing photos for the Shelton-Newman game slideshow!
TRIPP MOSS REPRESENTED THE U.S. AT THE HELICE WORLD CHAMPIONSHIP
Ninth-grader Tripp Moss was fortunate to be selected as a Top 3 Junior Shooter to represent Team USA in the Helice World Championship shooting competition in Sicily, Italy, Sept. 6-11. There were approximately 300 competitors at the event, and it included two days of preliminary events, a European Grand Prix and the World Championship. In the Match of Nations (Team World Championship Event), the Junior Team won Gold over Great Britain (Silver) and Italy (Bronze). Tripp met some amazing competitors from all around the world and had a wonderful time representing the United States in this international competition.
CONSIDER DONATING TO SHELTON'S ANNUAL FUND
This year's Shelton School Annual Fund "Investing Today, Shaping Tomorrow" is about the opportunities students gain from a Shelton education. Our students' experiences today shape their tomorrow. Your investment enables Shelton to offer innovative programs, top-notch educators and personalized instruction at an outstanding campus. Thank you for all that you do to make a difference for each and every Shelton student.
SEND US YOUR STUDENT AND ALUMNI NEWS
Has your child held an interesting job, volunteered in the community or had any other special achievement? Please let us know by filling out the form here. By submitting news or photos you agree that your news may be shared on Shelton.org, our email newsletters and social media. Send photos to lkresl@shelton.org.