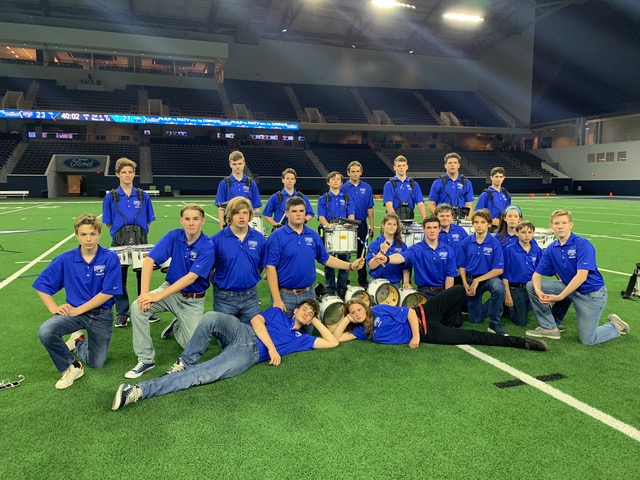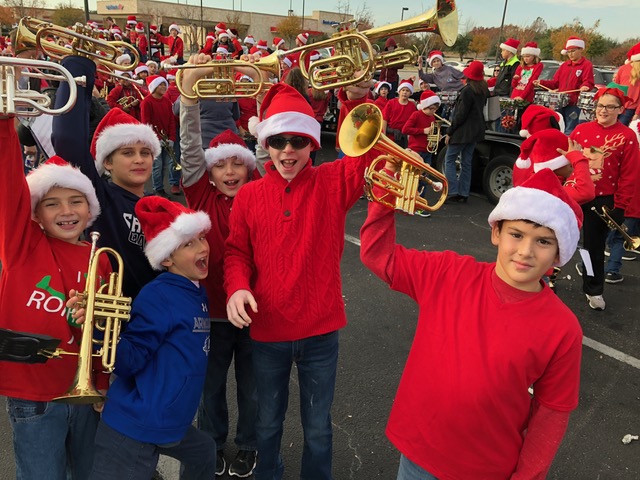 A BUSY TIME FOR OUR BANDS, STARTING WITH CONCERT TOMORROW
Shelton's Band will perform tomorrow in The Commons at 9:40 am.  You'll hear holiday tunes and more!
AND THEN THERE'S THE RICHARDSON ANNUAL HOLIDAY PARADE
Both Band and Drumline will perform in the Richardson Christmas Parade on Saturday, December 1. Drumline is near the front of the parade, and the Band is closer to the end of the parade. Both are defending 1st place awards from last year.
This year's parade route is nearby Shelton, running north on Coit Road from Belt Line to Melrose by JJ Pearce. The students, along with directors Ken Utz and Jerry Bishop, would love to see their Shelton families, friends, teachers, and classmates along the parade route. It begins at 9:00 am!  Get some holiday spirit!
PARENT SUPPORT NIGHT - DECEMBER 6th
Shelton hosts its monthly Parent Support Night on Thursday, December 6, 7:00 pm in the Dining Hall.  This month's program's topic is Oral and Written Language.  Remember, while the program is mandatory for new Shelton parents, it is open and free to ALL parents.  There is no need to RSVP for this particular program.  Come learn more about this important topic.
UPPER SCHOOL PEP RALLY LAUNCHES WINTER SPORTS
Get ready for a new lineup of sports - hear all about them at the Pep Rally on Friday, November 30th - it takes place in the gym at 2:45 pm.  Go, Chargers!
A REMINDER CONCERNING CARPOOL:  A REQUEST FROM A CARPOOL COORDINATOR
The carpool line is for loading / unloading only, not for parking or unattended cars. If parents need to come inside the building, please park in a space and turn off your car. Some drivers  are stopping in these lines and either sitting there or leaving the car unattended. This creates a situation where a parent does not know if it safe or not to go around a car that is stopped, because he is unsure if a child is going to get out of the car.
YOU'RE INVITED TO GREENHILL
The Social Emotional Difference in Schools and the Home:
Why Schools Nationwide are Embracing Social Emotional Learning (SEL) and Seeing Remarkable Outcomes
Monday, December 3, 2018, 6:30-7:30 pm at Greenhill School, Rose Hall

Join Meena Srinivasan, SEL Program Manager for Oakland Schools, author of Teach, Breathe, Learn: Mindfulness In and Out of the Classroom (Parallax Press, 2014) and SEL Everyday (Norton, 2019) for an evening of rich conversation about the importance of Social and Emotional Learning (SEL). Meena will share how she has helped implement SEL in a number of schools while also highlighting how SEL starts in the home. She will share some ideas about how parents and families can be critical partners in helping their children develop social and emotional skills.

You will learn:
Insights on integrating Social Emotional Learning into schools.
How teachers, parents and caregivers can model SEL skills, attitudes, and behaviors to support students.
How families can help foster their child's development of SEL skills.

Greenhill School and Dallas Yoga Center are proud to bring Meena to our DFW community. We invite parents, teachers and administrators who care deeply about young people's emotional wellbeing and future to join us. We look forward to exploring tangible, evidence-based methods to improve our schools and students' lives with SEL.

Reserve tickets here.