SEE YOU AT PARENT CONFERENCES
We look forward to seeing you for parent conferences this week!  Just a reminder - park in visitor parking out front, behind the church across the street, and only curbside at the church (and we mean only at the curb).  A reminder that the empty grocery store lot has towing signs up, and we don't want anyone to have an unpleasant experience. Here are the dismissal times times for today:
Early dismissal for grades 5 to 12:
Grade 5 - 11:30 am
Middle School - Noon
Upper School - 12:30 pm
EC to grade 4 - Regular dismissal 
NO SCHOOL THURSDAY AND FRIDAY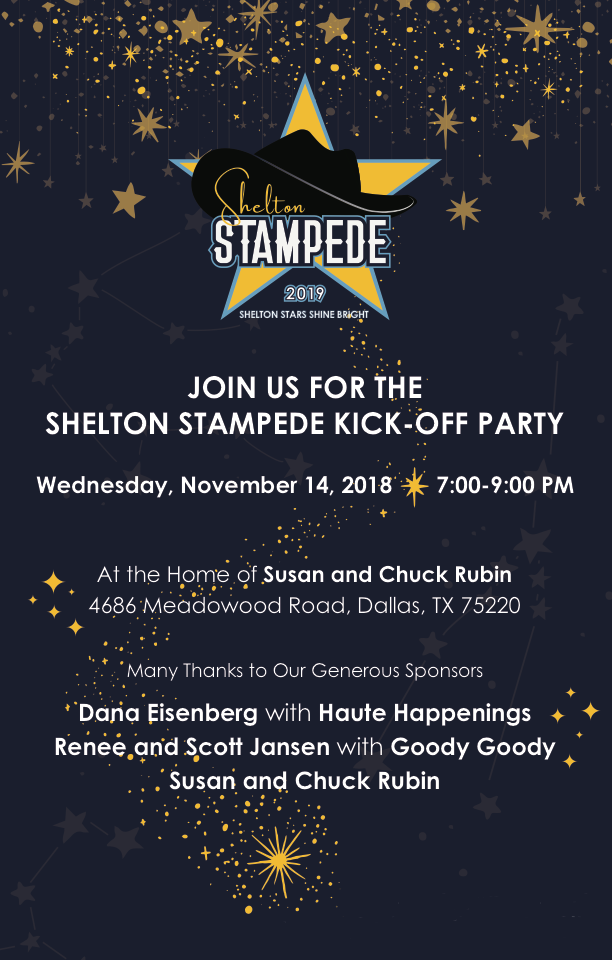 JOIN IN THE FUN FOR THE STAMPEDE KICKOFF!
All Shelton parents are encouraged to join in the excitement at the official kick-off party for Shelton's Stampede benefit auction. Party with your fellow parents and enjoy cocktails and bites. 
Auction co-chairs Dina Brantman and Lisa Harrigan, along with their committee members, are off to the races with great plans for a festive event. The fun starts now!
RSVP below by November 8th..
BOOSTERTHON WAS A WINNERTHON
Boosterthon 2018 was a great character- / fun- / fund-raiser!  Thanks to Shelton parents Stacey Segal and Reagan Melton for their event leadership.  And applause to  Michael Ford and Casey Faulhaber from the Boosterthon organization for making our event so successful.  As of yesterday afternoon, Shelton had a PLEDGED PROFIT over $42,400! The last night for pledging brought in nearly $12,000! Thanks to all for your support in so many ways!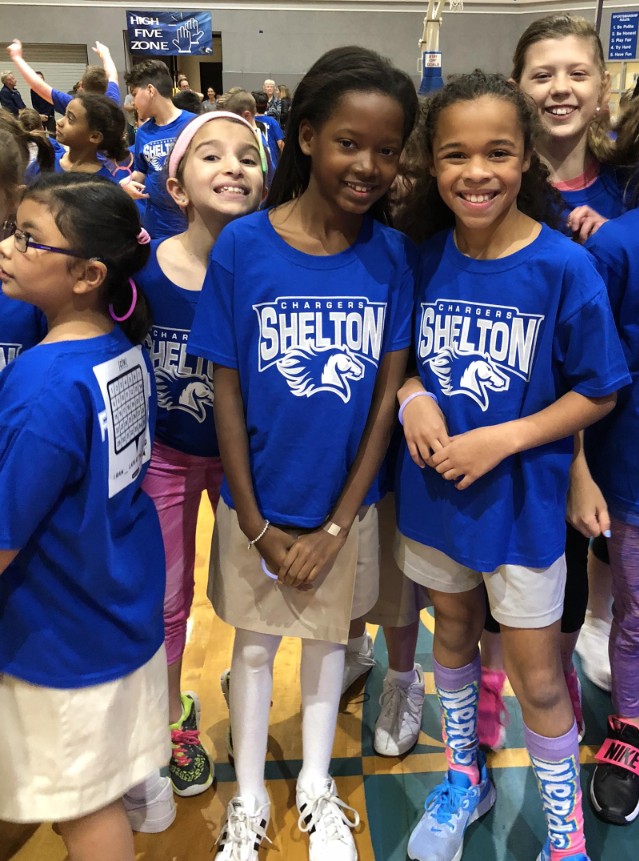 BOOK FAIR STILL IN PROCESS
VISIT DURING PARENT CONFERENCES!
We encourage you to come to the Book Fair in the first floor library while you are here for parent conferences.  Lots of fun things for you to see!  Can't come?  Then visit the online Book Fair from now to Oct. 26th. Think of the great holiday gifts just waiting for you!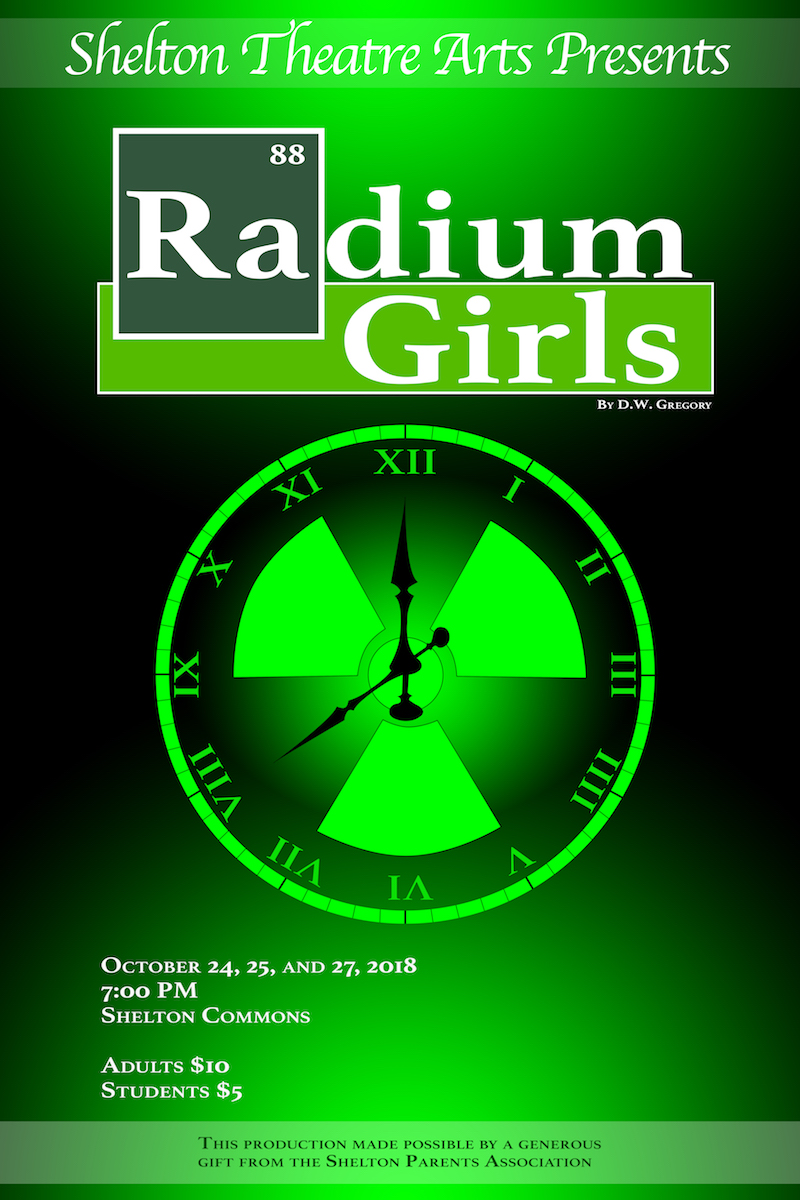 CHECK OUT TWO SHELTON VIDEOS TO LEARN MORE ABOUT THE PLAY
Radium Girls by D.W. Gregory and directed by Anné Hughes
Recommended for ages 12 and older
October 24, 25, and 27, 7:00 pm
In 1926, radium was a miracle cure, Madame Curie an international celebrity, and luminous watches the latest rage – until the girls who painted them began to fall ill with a mysterious disease. Inspired by a true story, Radium Girls traces the efforts of Grace Fryer, a dial painter, as she fights for her day in court.
STRATEGIES FOR ENGAGING IN YOUR CHILD / GRANDCHILD'S LEARNING PROCESS
October 30, 8:45 – 9:30 a.m., Shelton parents and grandparents are invited to attend a special workshop in the Dining Hall presented by former Shelton Head of Upper School, teacher and current Shelton Grandparent Judy Browne on the topic of Strategies for Engaging in Your Child / Grandchild's Learning Process.
 
This informal presentation is designed to share games and topics of conversation with your child or grandchild that can be incorporated into the activities of everyday life: driving in the car, at the dinner table or watching a movie. These conversations and games can help increase a child's language development, critical thinking skills and general fund of knowledge which will, in turn, impact the child's overall learning, social skills and self-image.
SHELTON OBSERVES RED RIBBON WEEK OCTOBER 29 - NOVEMBER 2
Life is Your Journey, Travel Drug-Free!
Shelton joins schools around the nation for Red Ribbon Week. Please click here to read more about how Red Ribbon Week started and how Shelton will participate. Only students in Grades 3 -12 will participate in the activities (with approved uniform). Lower School parents, please read how you can discuss making good choices with your child.
HELP FILL GOODIE BAGS FOR GRANDPARENTS' DAY
Add to the pleasure of our grandparents and special friends when they visit for Grandparents' Day on Fri., Nov. 16th.  Here's a great way to advertise your business and help us at the same time!
If your business has any promotional / gift items (pens, pads, key chains, coupons, etc.), we will be delighted to include them in our goodie bags!
There will be over 900 grandparents and special friends here for Grandparents' Day, so this is a great opportunity for you to promote your business to a large and appreciative audience.
Your items can be brought to Shelton's Development Office through Monday, Nov. 12th.  Questions?  Call Theresa Bruno at (972) 774-1772 Ext. 2230 or Carol Scalzo at Ext. 2256.
 GIRLS' SOCCER PARENT MEETING
There will be a parents' meeting for girls' soccer (7th and 8th grades) on Oct. 30th at 6:00 pm in the Dining Hall. The first practice will be Monday, Nov. 5th. More details will be provided at the meeting.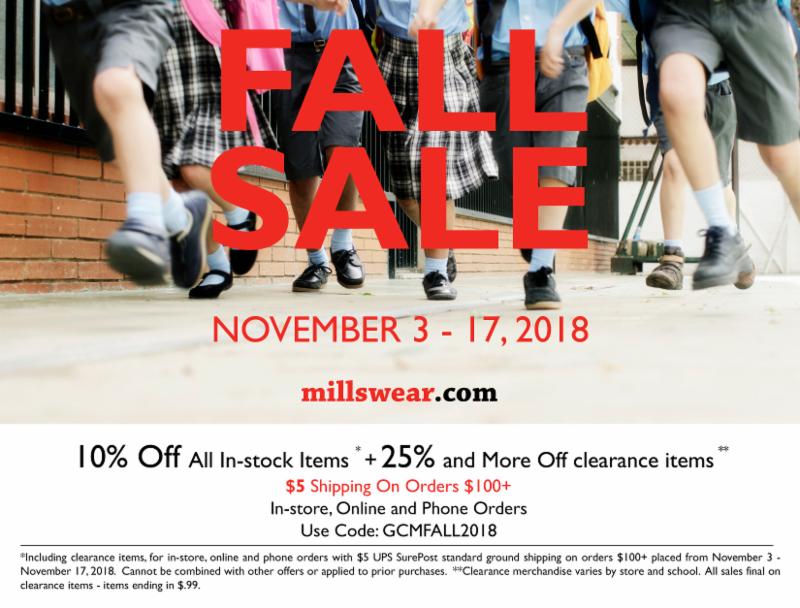 MILLS UNIFORM TO HAVE FALL SALE
10% Off all in-stock items / 25%+ and More Off Clearance items and $5 shipping on orders $100+ placed during the sale. Save the date and plan to make your purchases!