SHELTON FOOTBALL at the STAR!
Saturday, October 13, 7:00 pm kick-off
Ford Center at The Star, 9 Cowboys Way, Frisco, TX 75034
Special thanks to Charlotte and Shy Anderson and Gene and Jerry Jones for again making this venue available to the Shelton community! To Don and Kelli Valade and Chilli's for the meal discount on the tickets. Finally, thanks for Bailey Ann and Brett Broughton and Konica Minolta for printing all of our tickets.
MEDS ARE VERY IMPORTANT
It is very important that Shelton is aware of the medication(s) that your child(ren) take both at home and at school. Please click HERE to complete a short medication questionnaire. This year we will collect this information online instead of at conferences. Please complete the questionnaire even if your child takes no medication. It will only take a few minutes of your time. Your answers will be kept confidential.  Thank you.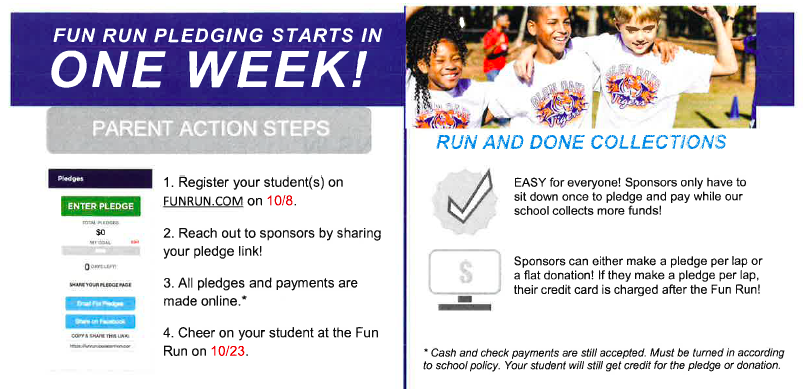 BOOSTERTHON FUN RUN!
Boosterthon Fun Run Pledging is Open!
Help support the Shelton Scholarship Fund and reach our $40,000 goal.

Pre-Primary - 5th grade parents can create their own student video!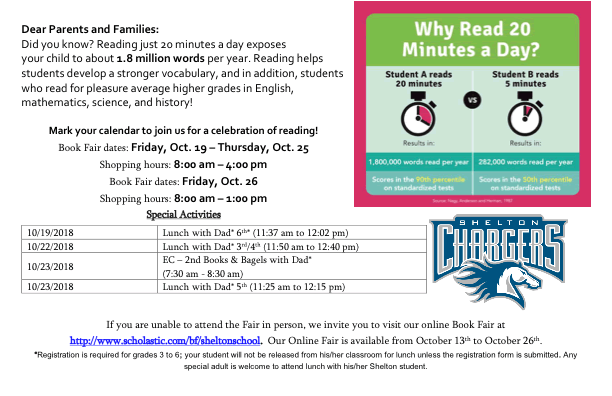 MONDAY - 10/22 Jennifer Nielsen Speaking and Autographing Books
Parents are welcome.  • 8:45 am – 9:35 am (MS)  • 10:00 am – 10:55 am (HS)
DYSLEXIA AWARENESS MONTH, CONT.
Please read here about Kendra Thomas, a Texas school principal who is a featured success story in the international Dyslexia Association's Dyslexia Connections.  
Shelton has a long-standing affiliation with IDA, and we too like sharing our success stories.  Next time you're on Shelton's campus, take a good look at all the "Shelton Success" banners around our atrium.  You'll see one of Tom Bulmer, pictured here with Director of Outreach Chris Bedenbaugh this summer at a professional conference in Hurst.  Tom (Class of 2011) has his master's degree in theology from University of Dallas and is now a teacher.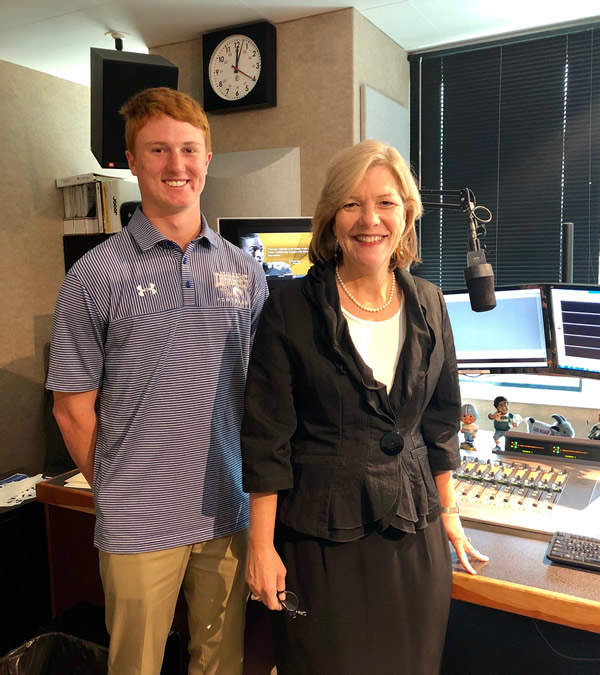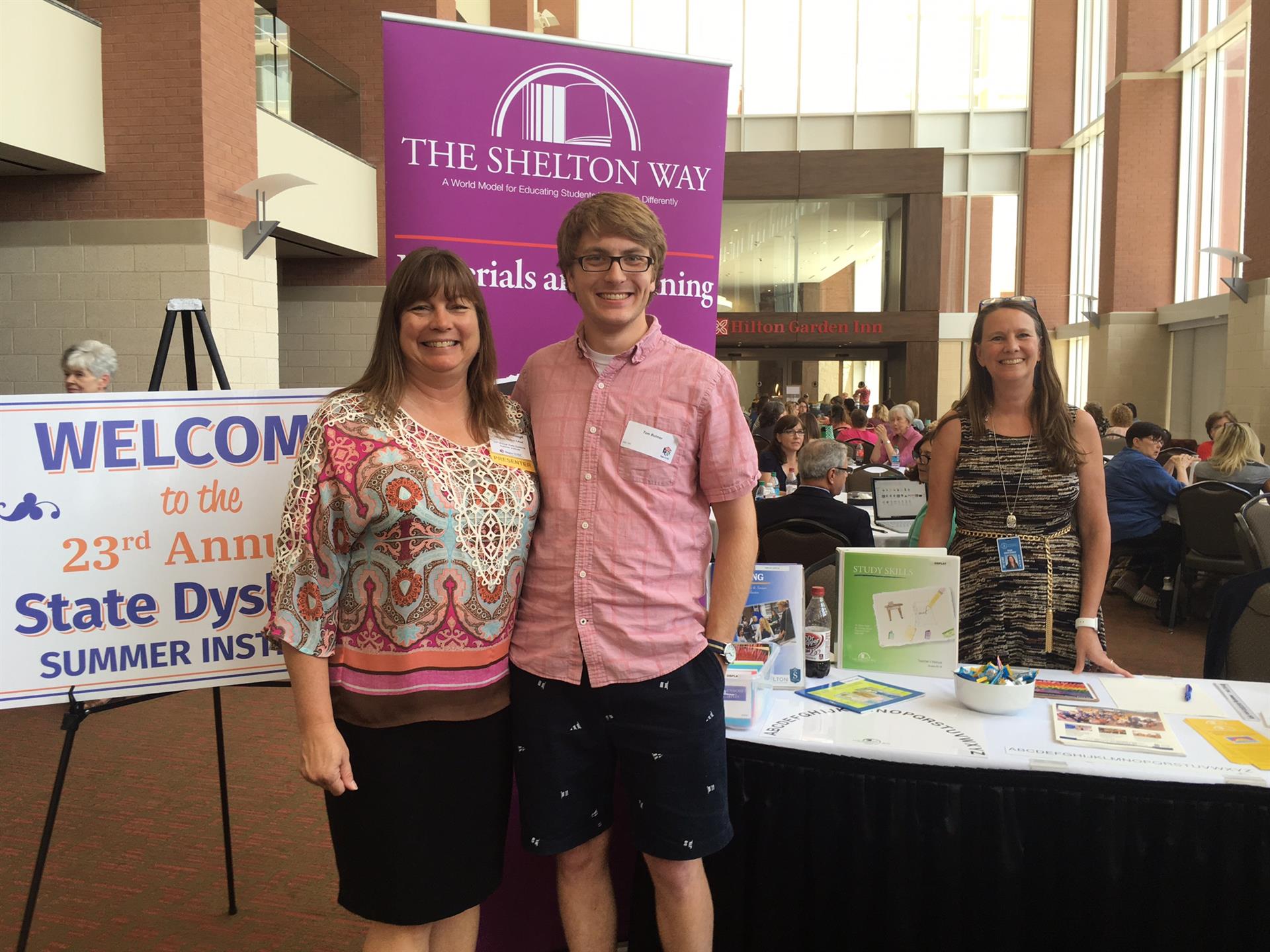 Catch a radio interview done by Executive Director Suzanne Stell and Shelton seniorJacob Eckart with Anna de Harro at iHeartMedia as a special feature for Dyslexia Awareness Month.
The interview will air on Sunday, October 14th at 6am on 1029 Now KDMX, Star 1021 KDGE and Lone Star 925 KZPS. It will air at around 6:15am on 1061 Kiss FM KHKS and at 6:30am on 971 The Eagle KEGL and finally at 8am and 10:30am on Talk Radio 1190AM KFXR.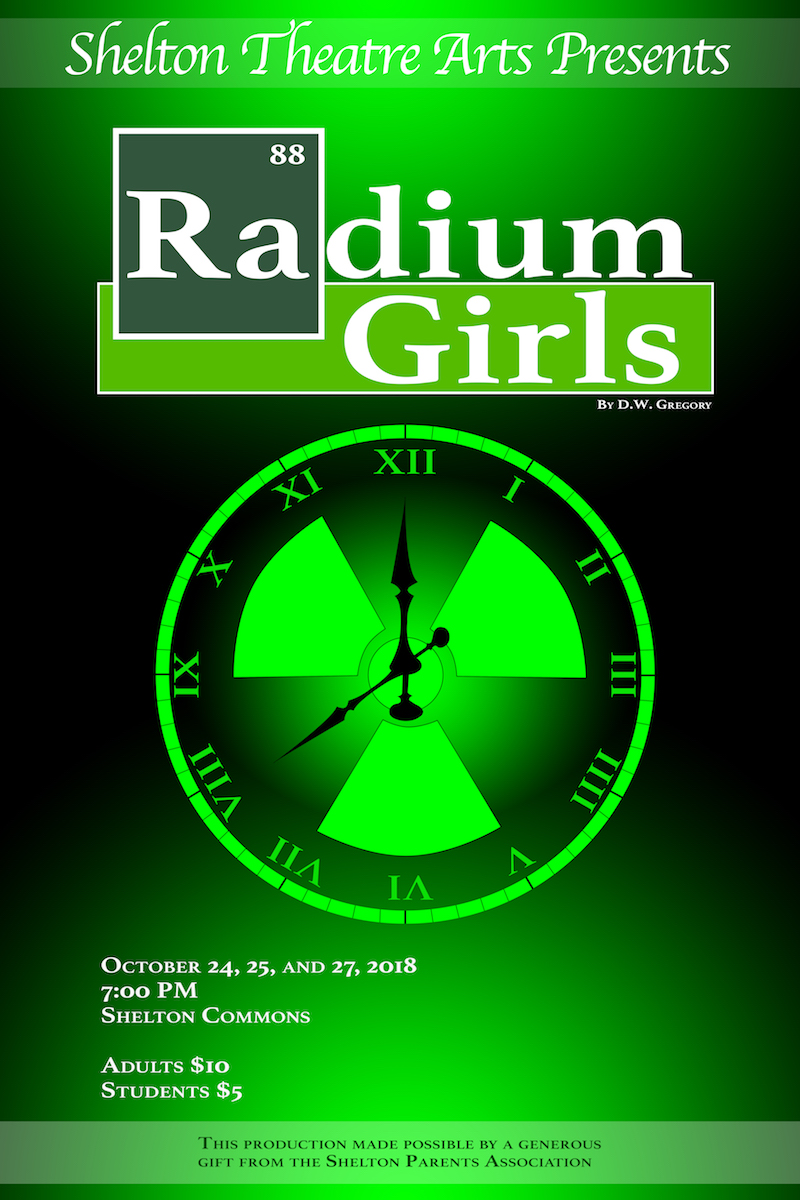 SHELTON THEATRE PRESENTS
Radium Girls by by D.W. Gregory and Directed by Anné Hughes
Recommended for Ages 12 & up.
October 24, 25, & 27 @ 7pm
In 1926, radium was a Miracle cure, Madame Curie an international celebrity, and luminous watches the latest rage– until the girls who painted them began to fall ill with a mysterious disease. Inspired by a true story, Radium Girls traces the efforts of Grace Fryer, a dial painter, as she fights for her day in court.
STRATEGIES FOR ENGAGING IN YOUR CHILD/GRANDCHILD'S LEARNING PROCESS
October 30, 8:45 – 9:30 a.m., Shelton Parents and Grandparents are invited to attend a special workshop in the Dining Hall presented by former Shelton Head of Upper School, teacher and current Shelton Grandparent Judy Browne on the topic of "Strategies for Engaging in Your Child/Grandchild's Learning Process."
This will be an informal presentation designed to share games and topics of conversation with your child or grandchild that can be incorporated into the activities of everyday life: driving in the car, at the dinner table or watching a movie. These conversations and games can help increase a child's language development, critical thinking skills and general fund of knowledge which will in turn impact the child's overall learning, social skills and self-image.
SHELTON PODCAST #2
Shelton Class of 2018 alumni Alex Anderson and Matt Matsil sit down with Shelton Upper School teacher Hunter Duesing to discuss their expectations going into college, and the skills they have developed at Shelton to meet the challenge.